At a Glance...
Date of Birth: December 31, 1937
Height: 5'7
Eyes: Blue (very sexy!)
Hair: ?!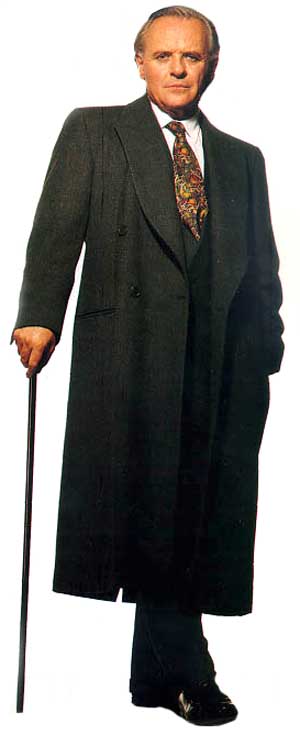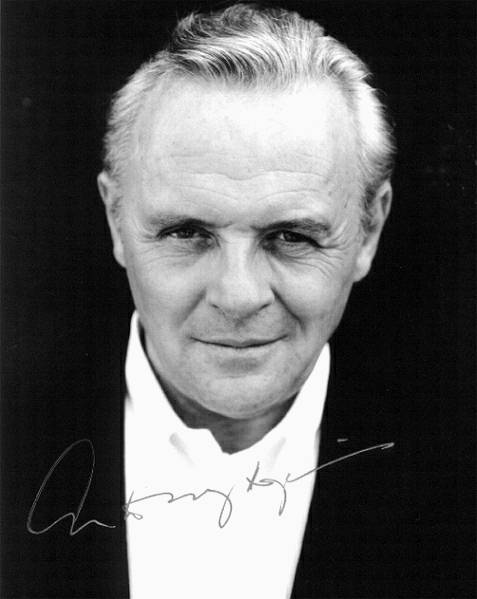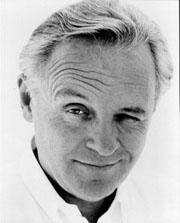 Born in 1937 in Port Talbot, South Wales, Philip Anthony Hopkins was the only child of Dick (a baker by trade) and Muriel Hopkins. His family was peopled with domineering and intimidating stock his grandfather, also a baker, inspired fear in his young grandson, on account of his massive, imposing build and stern, fiery temperament and he grew up a taciturn child in the peculiar atmosphere of wry, dark humor and bleakness that was Wales during the second World War.

Tony, as he prefers to be called, weathered a discomforting childhood, especially during his years at the Cowbridge Grammar School. "I was lousy in school," he says. "Real screwed-up. A moron. I was antisocial and didn't bother with the other kids. A really bad student. I didn't have any brains. I didn't know what I was doing there. That's why I became an actor." At age 17, he joined a community junior drama club and quickly realized that acting was to be his fate. Hopkins went on to attend the Welsh College of Music and Drama in Cardiff, and in 1961, he won a scholarship to London's prestigious Royal Academy of Dramatic Art, from which he graduated two years later. He became a member of the Phoenix Theater company in Leicester in 1963, and in 1965 had the honor of auditioning before one of his idols, Laurence Olivier, for a position with the company of the National Theatre, which he won. Hopkins enjoyed tremendous success at the Old Vic (as the theater is called), and in time moved on to undertake the roles in films that have earned him a place among the greatest actors of our time.

Hopkins' first film role of note was that of sulky Richard the Lionheart in 1968's acclaimed The Lion in Winter, in which he starred with legendary actors Peter O'Toole and Katharine Hepburn. He has appeared in some 90 movies since then, all of which have garnered him critical plaudits, even in those instances where the films themselves struck hollow notes (witness 1994's The Road to Wellville). The role he is most popularly known for is surely that of the fascinatingly, enticingly, unforgettably chilling Dr. Hannibal "The Cannibal" Lecter in Jonathan Demme's creepfest The Silence of the Lambs. The 1991 film brought Hopkins sharply to the attention of an American audience that had previously lumped him in with a slew of British actors: remotely respected, but not intimately known. Hannibal Lecter, as brought to life by Hopkins, was one of the most powerfully attractive villains in cinematic history uncanny intelligence blending with hideous malice and an unexpected tenderness to create an unforgettable portrait of what seemed to many people to be a real, living person.

Since then, America has not taken its eyes off Anthony Hopkins. After winning the Academy Award for Best Actor for that performance, he starred in a searingly human part in the 1992 Merchant-Ivory film Howard's End (with Emma Thompson, Helena Bonham Carter, and Vanessa Redgrave), tormented audiences with his Oscar-nominated rendering of Stevens, the infuriatingly repressed butler in Remains of the Day (1993) (also with Thompson), and created an eerily uncanny portrait of Richard Nixon in the 1995 Oliver Stone biopic Nixon, a portrayal that also garnered an Academy nod. In subsequent roles, Hopkins has continued to astonish with his almost frightening ability to transform himself into each character he essays, even going so far as to alter his physical appearance to the point that he is almost unrecognizable. His performance as the title painter in Surviving Picasso (1996) was no less remarkable for his acting ability than for the fact that he looked just like the visionary Spaniard.

1996 saw Hopkins's first foray into directing, with August, an adaptation of the brilliant Anton Chekov play Uncle Vanya, which he transposed to a seaside Wales setting; he also starred in the movie and wrote the musical score. The film was not a success, and critics for the most part complained that it lacked Chekov's sense of the comedic, that Hopkins infused the story with too much bleakness. He was back in critics' good graces the following year by virtue of his commanding Oscar-nominated supporting turn as former U.S. President John Quincy Adams in director Steven Spielberg's slave-ship revolt drama, Amistad.

The 1998 film The Mask of Zorro paired Hopkins with another actor known for his volcanic temperament: flamboyant Latin heartthrob Antonio Banderas. The Richard Rodriguez-directed interpretation of the legendary swordsmith's tale found Hopkins portraying the aging mentor Zorro to Banderas' younger incarnation of the romantic rebel hero with the roguish rapier. Next up came a role alongside another heartthrob, in the person of his Legends of the Fall co-star Brad Pitt, in Meet Joe Black, a painfully long remake of Death Takes a Holiday. No better was the Jon Turteltaub thriller Instinct, the laughable chronicle of an anthropologist who spent years living among the mountain gorillas of Africa.

The 60-plus-year-old actor has led a predictably morose and unsettled private life, and retains a tempestuous discontentment typical of artists and some eccentric habits to show for it. Wed briefly to Petronella Barker (with whom he had a daughter, Abigail, born in 1968) in the '60s, he married his present wife, Jennifer Lynton, in 1973. He fortunately gave up booze two years later, after waking up in a Phoenix hotel room with the mother of all hangovers and no recollection of how he came to be in Arizona. Apart from a fanatical intensity about acting, Hopkins has been known to spend free time aimlessly driving about the United States, alone, for hours, days, even weeks at a time. He seems to be one of those actors who actually lives to act, and his prodigious body of work is testament to that almost maniacal drive, as is the ferocious vividness of the characters he portrays, characters who leap off the screen, make us uncomfortable, and even haunt our dreams.

Though Hopkins received the honor of Commander, Order of the British Empire, from Her Majesty Queen Elizabeth in 1987, he became a full-fledged American citizen in 2000 (he'll still be formally recognized as a British national in his native country).